The Appalachian Chain Treasure Hunt
AMERICA'S FIRST CHRISTIAN-BASED TREASURE HUNT
Find a hidden key and win approximately $500,000 worth of valuable items.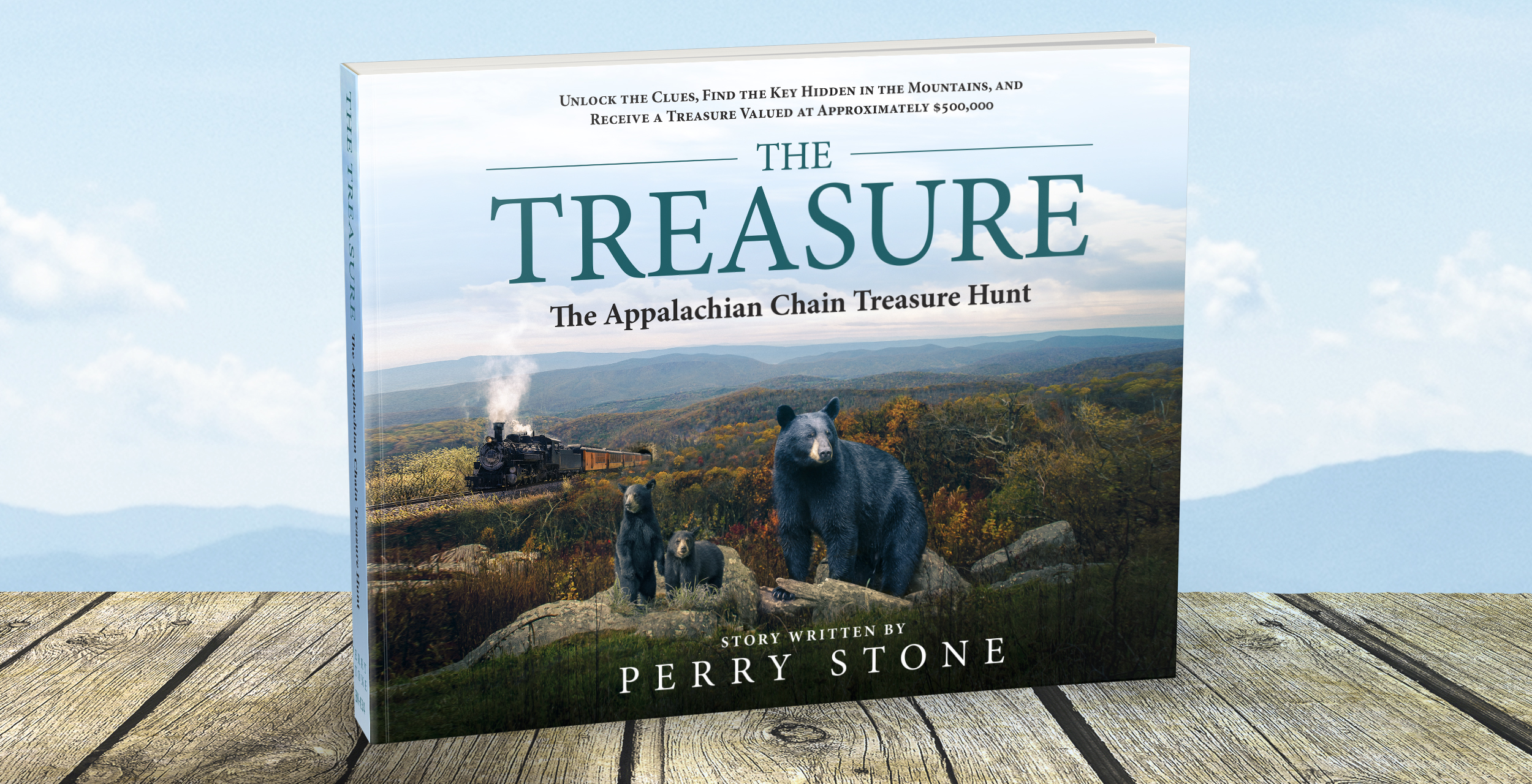 The Treasure Book (TR-1 Offer)
In this fictitious story follow Amanda as she journeys through four states, all located in the chain of the Appalachian Mountains, to find a key hidden by her father. When discovered, the key gives her access to a valuable inheritance.
Concealed within this story are various hints and clues which, if correctly deciphered and placed in proper order, will lead to a specific location. At this location, the treasure hunter can retrieve a key that will allow its finder to lay claim to gold, silver, and platinum coins; silver rounds and bars; rings with diamonds, sapphires, tanzanite, and ruby jewels; customized jeweled necklaces from Israel; ancient coin and gem-studded bracelets, and much more. Included in the prize are trays of authentic, ancient Jewish, Greek, and Roman coins; gold, silver, and bronze emperor coins; gold Byzantine coins; historic museum-quality biblical antiquities, autographed sports cards; and a stamp collection. The total estimated value is $500,000.
Some are purchasing the book simply to enjoy the read of this fictional writing by Perry. The story is a refreshing and enlightening journey amidst the Appalachians. Writing and producing this book was a special project for Perry due to his interest in solving unknowns and even participating in treasure hunts as a hobby.
For those who plan to engage in the actual hunt, please read the following rules. All rules must be followed for a person to participate and win the prize. For those who do decide to participate, enjoy!
RULES: IMPORTANT RULES FOR ALL TREASURE HUNTERS:
BY PARTICIPATING IN THE TREASURE HUNT, YOU AGREE TO ABIDE BY AND BE FULLY BOUND BY THE FOLLOWING RULES. DO NOT PARTICIPATE IN THE TREASURE HUNT UNLESS AND UNTIL (A) YOU HAVE READ AND FULLY UNDERSTAND EACH OF THESE RULES AND (B) YOU ARE AN ELIGIBLE PARTICIPANT AS DEFINED BELOW.
ELIGIBILITY. Participation in this hunt is available only to individuals aged 18 and over who are not current or former employees or independent contractors of ISOW, Inc. a/k/a International School of the Word ("ISOW") or Voice of Evangelism Outreach Ministries ("VOE"), including but not limited to Manna-Fest, Omega Center International Church, Perry Stone Ministries, or any other d/b/a or department of VOE. Current and former family members of current or former employees or independent contractors of VOE and ISOW are also ineligible to participate. Current and former employees and independent contractors of VOE and ISOW and their family members may not search for the key or provide any assistance to anyone participating in the hunt. Any finder who receives assistance from any such person shall automatically be disqualified from receipt of the treasure. Any individual under the age of 18 may participate in the hunt only with the close supervision of a parent or legal guardian.
RELEASE OF LIABILITY. By participating in the hunt in any fashion, the participant covenants and agrees, on his or her own behalf and on behalf of his or her family members and dependents, that the participant and his or her family and dependents will hold harmless and fully release and indemnify VOE, ISOW, and their respective directors, officers, employees, and agents, as well as Perry Stone, from any liability whatsoever for any death, injury, property damage, or property loss incurred by the participant or his or her family or dependents as a direct or indirect result of participation in the treasure hunt. In other words, the participant and his or her family and dependents will not sue Perry Stone, ISOW, VOE, or their directors, officers, employees, or agents even if the participant claims to have been harmed by the negligence of Perry Stone, ISOW, VOE, or their directors, officers, employees, or agents.
ASSUMPTION OF RISK. VOE and the book's author, Perry Stone, make no representations or warranties as to the safety or level of risk associated with participation in this treasure hunt. Participation in the treasure hunt is at the participant's own risk. Each participant is responsible for his or her own safety and the safety of friends or family members searching with them. While the key is not in an inherently dangerous place, any outdoor activity, including this search, includes some risk. Our beautiful Appalachian Mountains can have natural dangers, such as snakes, bears, biting insects, fires, heights, mines, and caves. Sometimes there are floods, lightning, hail, heavy rain, snow, and ice. It is important to stay hydrated, and equally important not to become lost in the forest. Before proceeding with a search destination, fully educate yourself concerning the details and risks of any outdoor exploration and take any needed precautions.
CLAIMING THE TREASURE. The treasure can be yours if you follow these rules and solve the mystery concealed in this book. When the fortunate treasure hunter retrieves the key, along with the container in which it is concealed, the finder must contact Perry Stone or VOE in Cleveland, Tennessee, and present the key and container in person, along with an explanation of HOW they interpreted the clues to find the location of the key. With the key and the explanation of how they solved the mystery using clues from the book, the finder of the key will receive the treasure.
PUBLICITY. A participant who solves the clues and retrieves the key may, upon request, remain anonymous. If this choice is made, Perry Stone and VOE will retain the right to publicly reveal the winner's gender, age, and state of residence, as well as certain facts about the winner's experiences related to the search. Upon request by VOE, the winner will execute written consents confirming the right of VOE and the author to share such information publicly.
RECEIPT AS-IS. The estimated current value of the treasure exceeds $500,000. This estimate is based upon expert evaluations, internet comparisons, and appraisals by professional jewelers and Holy Land antiquities dealers. The actual value of the treasure may fluctuate based on the prices of antiquities, gold, silver, diamonds, and gemstone at the time the finder takes receipt of the treasure. A participant who retrieves the key and the container, and shows how he or she solved the clues, takes all items as-is. Treasure items will not be exchanged for other items, and the treasure may not be exchanged for cash.
DEADLINE. If the treasure is not claimed as described in these rules within two years after the public release date of the book, then Perry Stone or an assigned representative will retrieve the key and, if they so choose, reveal the general location of the hiding place.
COMPLY WITH ALL LAWS.  As you hunt for the key, you will not be digging deep holes or removing large heavy objects. DO NOT under any circumstances remove, alter, or damage any building, structure, or archaeological or protected site. DO NOT enter mines, closed-off areas, or private property. No local, state or federal laws are to be broken by participants. The key is located on public land at a location accessible throughout the year, but weather may impact a search. All "No Trespassing" signs should be respected and observed.
EXPENSES; TAXES. Each participant is personally responsible for all expenses of searching, including their travel, living arrangements, hotel bills, fuel, food, and other expenses that may be incurred during their search efforts. The search is intended for family enjoyment and to get people out of their homes and into an environment where they will experience God's beautiful scenery and towns throughout the Appalachian Mountains. Any taxes due on the treasure are the responsibility of the winner. All federal, state and local laws may apply.
RULE CHANGES. VOE and the author retain the right to modify the rules or add additional rules as they deem to necessary to protect participants and/or to ensure the fairness and integrity of the search process.  Any changes will be posted to the Perry Stone YouTube channel and the Perry Stone Ministries Facebook page and will take effect upon posting.