Perry Stone Ministries has been monitoring the entry requirements for Israel and the protocols involved and has decided to postpone our 2021 trip to Israel until November 20-29, 2022.  We believe by waiting another year, the travel experience will be more enriching for our passengers because the current entry requirements should be less intense by that time.
If you are currently registered for the 2021 tour, more details will be e-mailed to you soon.  This e-mail will be coming from our travel partner, Noseworthy Travel Services, and will include new choices that you can make going forward.  One of these choices is our first ever trip to Turkey in 2021. Turkey is the location of many Biblical sites including the 7 Churches of the book of Revelation!
The dates of our Trip to Turkey are November 23 – 30, 2021,  which are designed to match the dates of our previously planned Israel tour.  Turkey does not require vaccination for entry, only the PCR tests.  It will be less expensive than the Israel tour and may be the only time Perry will lead a group on this itinerary which will be centered on prophecy.  This information is very "hot off the press" news, so we will be sending you the Turkey tour details shortly and will give you the choices you can make. We hope you can join Perry for this 7 Churches tour where the Apostle John sent his letters under the instruction of the Lord almost 2,000 years ago.  This tour will be made available to those who are currently registered for the 2021 Israel tour as well as others who want to experience the 7 Churches of Asia located in Turkey.
We look forward to having you with us!
Perry Stone & Team
7 Churches of Revelation Tour with Perry Stone
To Register Contact: Noseworthy Travel Services
by phone at 1-800-929-4684 Option 2
through email at [email protected]
or online by clicking the link below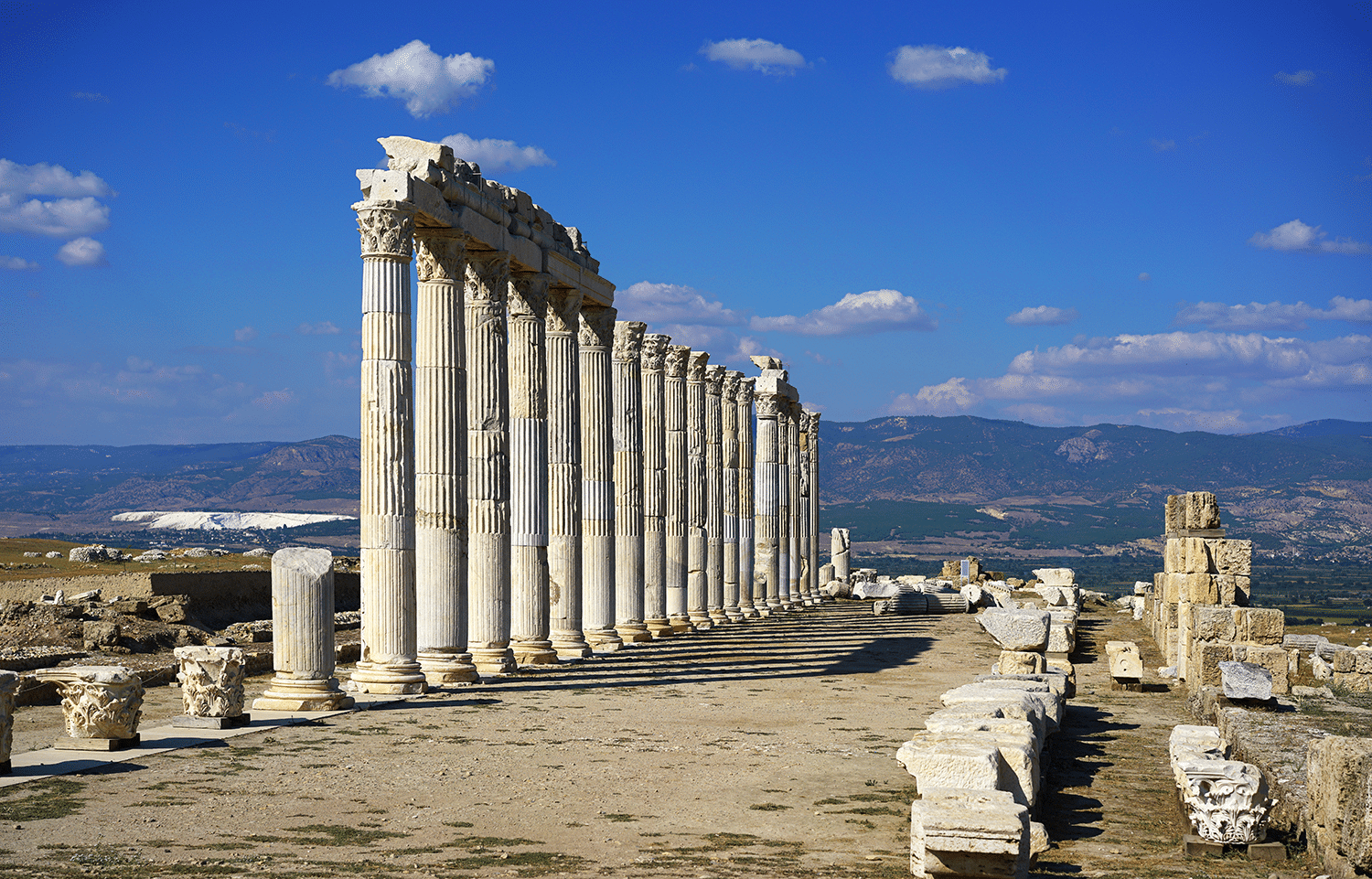 Laodicea, the seven churches of Relevetion, at Denizli, Turkey
2021 Tour to Turkey Information & Resources
The 2021 Tour to Turkey is hosted by Perry Stone through Noseworthy Travel Services.  NTS has been organizing all of Perry Stone Israel tours for the past 32 years.
| | | |
| --- | --- | --- |
| Main Tour to Turkey | Nov 23–30 | $3599.00 |
| Extended Stay in Cappadocia | Nov 29- Dec 3 | $999.00 |
The following is included as part of the of the main tour package:
Round-Trip International Airfare

Deluxe Motorcoaches

1st Class Hotels

Hotel Gratuities

Guided Sightseeing

Entrance Fees To Sites Visited (As Listed in Itinerary)

Breakfast, Lunch, & Dinner Daily Plus 1 Soft Drink at Lunch & Dinner

Fuel Surcharges


Taxes (Increases in goverment tax and fees are subject to change)

Turkish Visa is not included in your cost (approx. $50)